APBnews Article
The Mystery of the Boy in the Box
Child's Death Still Baffles Investigators Four Decades Later
April 1, 2000
By Jackie Rothenberg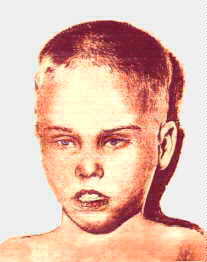 Artist's reconstructed picture of the boy

PHILADELPHIA (APBnews.com) --

His given name has eluded police for 43 years, along with the way he met his death.

In life, almost nothing is known about the small child found decades ago in a dumpsite. But in death, he would be embraced by homicide investigators who had seen it all -- except a boy in a box, surrounded by trash and rusty car parts. And generations of Philadelphians would be drawn to him long after he was in the ground. Some still pray for his soul.

The cardboard box -- the first of what would come to be his three graves -- held him only briefly, perhaps a few days or weeks. After months on a cold slab in the city morgue, he was buried in grave No. 191 in a potter's field alongside prisoners, unclaimed bodies and body parts.

He came to his final resting place in 1998, when his body was exhumed for DNA testing and then reburied in a private cemetery.

At first glance, the man who spotted the body thought it might be a discarded doll. But it was of a boy of about 4, left in a box marked "fragile" and "handle with care," dumped in a rubbish-strewn lot in a desolate wooded area on the city's northern fringes. The nude, badly bruised body, covered by a blanket, wasn't even big enough to fill the box.

Assumed ID would come quickly

The boy in the box, as he came to be known, was found by police Feb. 26, 1957, near an unpaved road in the city's Fox Chase section. They were alerted by a college student who had come across the box the day before. By some accounts, the student had been hunting rabbits; by others, he was spying on the wayward girls residing at the Good Shepherd Home nearby.

Investigators assumed it would only be hours, maybe a day or so, until they knew the boy's identity. Other than the occasional drifter, Philadelphia police rarely had cases where they couldn't put a name to a body, especially that of a child.

But they hadn't seen anything like this before: a boy alone in the world, seemingly without family or playmates to mourn his passing.

Sam Weinstein, the second police officer to arrive at the scene, still recalls the sick feeling he got when he saw the child "thrown away like that," sharing space with beer bottles, cigarette butts and a broken toilet.

"It's something I never want to see again," said Weinstein, a rookie in 1957 and now retired. "I'm a combat veteran of World War II. I've seen a lot of mayhem, but this touched me more than anything I ever saw before."

Detectives dressed the boy and propped him up in a sitting position for a postmortem photo, hoping a more natural appearance might spark some recognition.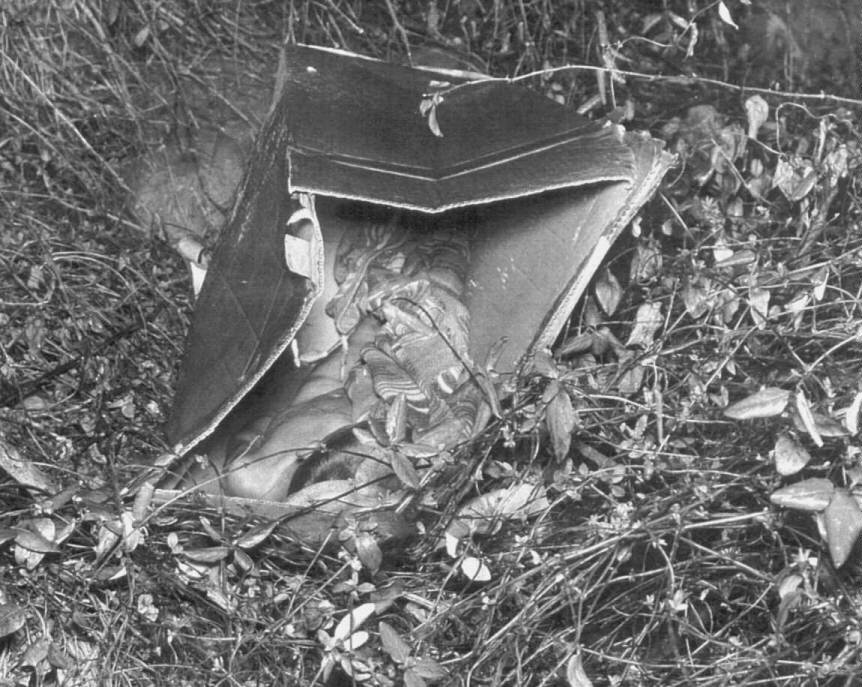 Crime scene photograph
Photo in the gas bill
Hundreds of thousands of fliers with the picture blanketed Pennsylvania, New Jersey and Delaware. They went up in post offices and courthouses, grocery and liquor stores, racetracks and orphanages. They even went out with the monthly gas bill.
Lt. Kenneth Coluzzi, who heads the special investigations unit of the Philadelphia Police Department's homicide division, was just a toddler when the boy died, but says he recalls hearing stories and rumors about the case as he grew up.
"It took on a life of its own," Coluzzi said.
The little boy should have been easy enough to identify. He had blue eyes, light brown hair and a fair complexion. He had a slender build, was nearly 41 inches tall and weighed only 30 pounds. He had a very short, choppy haircut and some distinctive moles and scars on his face and body.
His hair had been roughly cut in a hurried way, perhaps after death. Small clumps of hair were still on his body.
The palm of his right hand and both feet were inexplicably wrinkled and rough-skinned, indicating what may have been a lengthy immersion in water before or after death.
'Who is this boy?'
In a scientific journal article entitled "Who Is This Boy?" a noted anthropologist wrote that the child appeared undernourished and may have been sickly for a year prior to death. Though his exact age couldn't be determined, the article stated, he was about 4 or 5 and his ancestors likely came from northwestern or west central Europe, possibly Scandinavia, West Germany, England or Scotland.
The box he was found in had originally contained a baby's bassinet, which sold for $7.95 at J.C. Penney. A dozen white bassinets had been sold in that shipment, and most of the buyers were accounted for.
Police -- including all 270 rookies in the academy -- were ordered to conduct an exhaustive search for clues in a 12-mile area surrounding the dumpsite. Linked by hand-held radios, they searched woods, fields, abandoned buildings and cars, vacant homes and garages.
The FBI gave the case top priority. The American Medical Association sent out a bulletin, hoping to match the boy's scars with any medical treatment he may have received. Detectives asked children in schoolyards whether a little boy who used to play with them had suddenly stopped coming around. Even the blanket -- faded cotton with a pattern of diamonds and blocks -- was analyzed by textile experts.
The search for the child's identity and his parents extended across the country and into Canada, Mexico and Europe.
"These guys did everything humanly possible in an investigation," said Philadelphia homicide Detective Tom Augustine, who now oversees the case. But, he said, police "aren't any closer today then they were back then."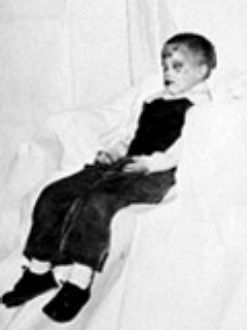 Postmortem photograph
A son, a brother, a boy in a dream
It isn't that no one came forward. Many sought to claim the boy or offer tips about his possible killer. He was identified as the child of various parents, the brother of a Marine, a kidnap victim. One man dreamed he had killed the boy, but police released him after questioning.
One of the most morbid tips pointed to two itinerant carnival workers. The carnie couple acknowledged letting six of their 10 children die of neglect and malnutrition and then dumping the bodies as they traveled cross-country. The body of one child was sunk in a lake, another tossed in a sulfur mine pit. But the boy in the box wasn't one of theirs.
Police and investigators from the medical examiner's office formed a tender cocoon around the boy. They served as pallbearers, carrying the little white casket to the grave July 24, 1957. Detectives chipped in to buy the tombstone -- the only one in all of potter's field. The boy was buried in clothes belonging to a detective's son.
His gravestone epitaph reads: "Heavenly Father, Bless This Unknown Boy."
Many theories about death
The case has always been investigated as a homicide. Dr. Joseph Spelman, the city medical examiner at the time, ruled that the cause of death was multiple head injuries. But the manner of death was never determined.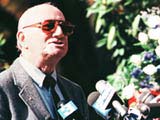 L. Misajet
Sam Weinstein, the second police officer at the scene
Countless stories written about the case refer to the boy as a murder victim. Some say he was beaten to death. One theory -- which took into account the bruises on the boy's head -- was that whoever gave the boy his choppy haircut killed him accidentally by holding his head too tightly.
"Every theory you can imagine has been thrown out there," Augustine said.
But one of the people closest to the case always believed the boy died naturally, or more likely as the result of an accident.
'U' for unknown
Remington Bristow was working the overnight shift that night at the city medical examiner's office, where he was an investigator. Cases were assigned alphabetically back then, and Bristow's letters were "m," "n," "o," "p," "q" and "u." That night, Bristow picked up a "u," for unknown.
Bristow, who died in 1993, spent 36 years on the case. In many ways, the story of the boy's death and the investigator's life were intertwined.
Bristow felt the case remained unsolved because whoever had left the body -- probably the parents -- feared they would be charged with homicide.
But he was convinced the boy hadn't been murdered: He'd been bathed and wrapped in a blanket; he had a fresh haircut, his nails were clipped, his arms folded gently across his chest.
Over the years, the investigator would say the boy had been laid out for burial and disposed of in "a loving way." Someone had intended to bury him, Bristow believed, but was scared off.
Had it been a homicide, Bristow said, the boy would have been tossed in a bag and left alongside the road.
The boy's parents shouldn't fear him, he was quoted as saying, because "if nothing else, we've shared the experience of loving a boy -- though it be in death."
A real tragedy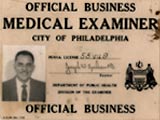 Remington Bristow, an investigator with the Philadelphia Medical Examiner's Office
Bristow kept files on the case at home and in his car. He spent countless hours off the clock tracking down leads. He traveled the country, spent his own money, used up his vacation time. He went to a psychic named Florence, who tried to make a connection by holding staples from the cardboard box in her hands.
A plaster mold of the boy's face, commonly referred to as the death mask, was made in the medical examiner's office. Bristow carried it around in a battered briefcase, along with evidence and police and autopsy reports.
He visited the boy's grave, sometimes pulling stray weeds and leaving flowers behind.
"I don't know that I understand why this one case of all the thousands he worked on touched him so deeply," said Bristow's grandson, Mark Kimelheim, who also visits the grave on occasion.
But Bristow -- who, like his father, had been a funeral director -- was raised with a deep respect for the dead. The investigator, who had lost a little girl of his own when she was just an infant, was offended by the idea that a child would go to his grave nameless.
"He thought it was a real tragedy," Kimelheim said.
Going home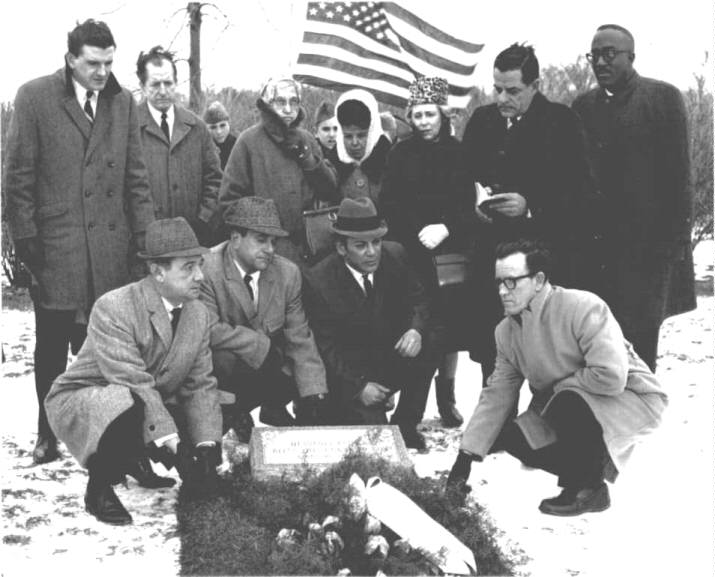 Bristow, second from right, standing at 10-year anniversary of boy's death in 1967
The boy stayed in the potter's field for 41 years. When it came time to exhume him for DNA testing, area residents sought to keep him in the ground. He had become part of the neighborhood. Schoolchildren left flowers and trinkets at his grave.
After an order was secured from orphan's court, the body was exhumed Nov. 3, 1998. The boy was brought to the surface with the help of the FBI's evidence recovery team, with hand tools and a backhoe that ripped into the earth which had surrounded him for decades.
He was reburied at Ivy Hill cemetery Nov. 11, 1998, under a blue sky, after clouds and rain had cleared. Police chaplains of various faiths offered prayers, and a lone bagpiper played "Going Home." Weinstein, a pallbearer at the reburial, gave the boy a military salute as the casket was lowered for the last time.
The casket, plot, gravestone and service were all donated.
The new black serpentine grave marker, engraved with a lamb, reads "America's Unknown Child."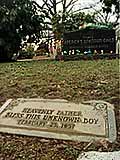 Elizabeth Robertson
The boy's grave site, where the original headstone sits at the base of a new marker
'In everybody's heart'
The overrun thicket where the box was found is now a residential area with brick row houses.
The child is still listed on police records as "unidentified boy," and the case, like all those investigated as homicides, remains open.
It is also being kept alive by the Vidocq Society, a Philadelphia-based organization of active and retired law enforcement, forensic and other crime experts who try to solve cold cases.
The inscription on the new marker symbolizes the nation's abused, missing and murdered children, said Vidocq commissioner William Fleisher, a former Philadelphia policeman, FBI agent and U.S. Customs special agent who is now a private investigator.
"That boy's in everybody's heart," Fleisher said.
A place to pray
A year after the reinterment, the Vidocq Society placed a small granite park bench near the grave for visitors, who sometimes leave flowers or toys for the boy. Once again, the day started out cold, with a hint of rain, but the sun shone through by the time the ceremony started.
There is space on the new grave marker for the boy's name.
Coluzzi, who oversees Philadelphia's cold cases, says it's unlikely this one will be solved, though the department will keep trying.
"It gets to a point where you don't know where else to take the investigation," Coluzzi said. "But you always keep an open mind."
Police had hoped to establish a DNA profile after exhumation in order to link or rule out any prospective relatives, but they haven't succeeded so far because the boy's bone fragments and other genetic material are so degraded after all this time.
Somebody knows something
Fleisher and Augustine believe there is someone out there, perhaps a relative, who knows the truth and can still come forward.
Investigators who worked the case when it was fresh and those who are working it cold agree on what matters most.
"It's not just about solving the case," Coluzzi said. "It's about giving the boy an identity and a name."
Anyone who may have information on the case is asked to call the Philadelphia Police Department homicide division at (215) 686-3336.