Back to Text Article Index

Back to Graphic Article Index
Archives
Page 9

Philadelphia Inquirer: 12/23/73
Some Mourn Boy Found Dead in '57
By DOMINIC SAMA
Inquirer Staff Writer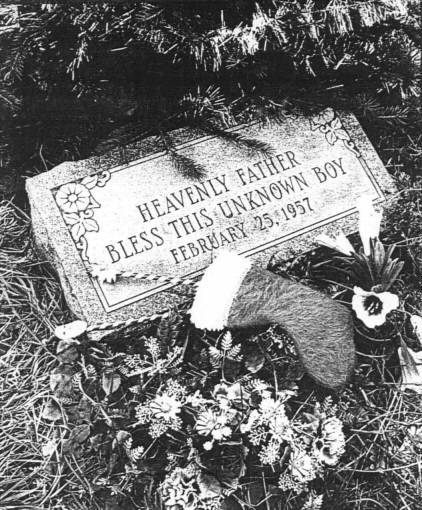 The Boy in the Box was remembered again on Christmas Day.
A five-foot high pine tree, decorated with tinsel, little Christmas balls and a red stocking, and two wreaths were placed at the boy's grave Tuesday morning in City Cemetery, Mechanicsville and Dunks Ferry rd.
The boy, who has never been identified, was about 3 years old when his body was discovered on Feb. 26, 1957, in a cardboard box in a weeded field off Susquehanna rd. near Verree rd. in Fox Chase.
No one knows who placed the tree behind the grave stone, but one wreath was laid by Remington Bristow, an investigator for the Medical Examiner's Office. Bristow has spent the last 16 years trying to unravel the mysterious death, and frequently visits the grave site.
The boy's death is not listed as a homicide, Bristow said, even though he was found with bruises about the head and body.
"He probably came from a very poor family," Bristow said, "and they probably couldn't pay for his burial. He was found bathed, his hair was trimmed, his arms were folded over his chest as if he were being readied for a burial, and his nude body was partially covered with an old blanket."
"That doesn't look like homicide to me - it's love. His death was probably accidental and the family panicked."
Bristow and his colleagues had purchased the boy's grave marker. The boy's death date is chiseled on the marker as Feb. 25 even though his body was found on Feb. 26.
"He was believed to have been dead for a day and that's the date we put on the marker," Bristow said, "But we go up there for a memorial service every year on the 26th."
The marker carries a simple epitaph: Heavenly Father, Bless This Unknown Boy.

Philadelphia Bulletin: 12/31/74
At Boy's Grave, Prober Kneels and Says a Prayer
Search on for 17 Years
By WILLIAM J. STORM and JOE QUINLAN
Of the Bulletin Staff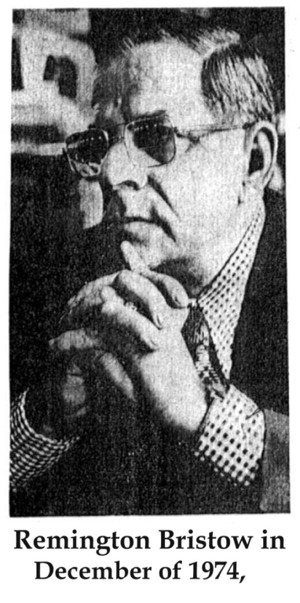 Remington Bristow moves a little slower now as he picks his way among the weathered grave markers.
He has a heart condition and he doesn't get around the way he used to. But the city cemetery at Dunks Ferry and Mechanicsville roads in Northeast Philadelphia remains a focal point of Bristow's life.
Usually he has a small spray of flowers with him when he makes his visits to one small grave there. He often kneels and says a silent prayer.
Reads Inscription:
He reads again the inscription on the granite marker: "Heavenly Father, Bless This Unknown Boy, February 25, 1957."
Bristow feels as though he knows the four-year-old boy buried there. He has been with him, so to speak, for 17 years.
The 53-year-old Bristow is an investigator for the Philadelphia medical examiner's office whose efforts over the years to identify the unknown boy, find out how he died and who his parents are, gradually became an obsession.
This is the baffling case of the "boy in the box." The boy was found on the date inscribed on the grave marker by a man who chased a rabbit into a wooded area on Susquehanna ave., west of Verree road, in the Fox Chase section.
The badly bruised body was wrapped in a blanket inside a box. The man thought it was an old doll and paid no attention to it at first.
But on the next day, he heard of a young girl missing in New Jersey and decided to tell Philadelphia police of his find.
The boy in the box posed a challenge to the city's police and medical investigators. Unusual efforts were made to identify the child.
Area Searched:
Then Police Commissioner, Thomas J. Gibbons, ordered the entire student body of the Police Academy to undertake an "inch-by-inch" search of 12 square miles north of Rhawn st.
Dozens of theories were tested. Hundreds of leads were followed up. All came to dead ends, often in distant cities and towns. More than 400,000 posters describing the dead boy were sent all over the country. They produced countless tips, but no solutions.
Bristow got the case only because the medical examiner's office passes out assignments alphabetically. He had the "U's" the day the "boy in the box" case was assigned - U for unknown.
Money Spent:
Since then, he has put in thousands of hours of his own time on the case, working on his days off, his vacations. He has spent thousands of dollars of his own money on his quest.
Frequently accompanied by his wife, Jean, he traveled all over the country. He walked the garish midways of honky-tonk carnivals, prowled trailer camps and Army posts and other lonely, out-of-the-way places where the restless of the earth make their temporary homes.
"Nothing is hopeless," he said in an interview the other day. "I'll continue to love the boy. To finally talk to his parents and close the case would be a fine way of ending a career."
Loves Children:
That career is coming officially to an end next month when Bristow will take an early retirement because of his health.
But he said he will continue to work on the case in an unofficial capacity.
In trying to explain his obsession with the unknown boy, Bristow says he loves children and respects the human body so much that he thinks no one should lie in an unmarked grave.
Bristow's present working assumption, shared by many of the original investigators, is that the boy died accidentally and that the parents, probably transients, were too poor to bury him or too frightened to go to the police.
Care Described:
He feels that the parents probably loved the boy.
"From the care of the body - hair and nails trimmed and body bathed - whoever left him there must have loved him," the investigator said.
Bristow has even put up $1,000 of his own funds to be given to the boy's parents if they will only come forth and identify him.
"It's not a reward," he said, "It's just in case they're in need."
He said the parents face only a minor charge in the case. "While they might have been afraid of a murder charge," he said, "they are only guilty of disposing of a body illegally."

Philadelphia Bulletin: 02/25/1977
Boy in a Box: 20 Years and No Solution
By ROBERT W. KOTZBAUER
Of the Bulletin Staff
He died 20 years ago today, the Fox Chase "boy in a box", but still no one knows who he was or much about him.
He was white and about 4 years of age. His hair had been recently and inexpertly cut; his head was bruised, and his body wrapped in a cheap, torn blanket. And he was found in a box in a wooded area off Susquehanna ave., west of Verree road in the Fox Chase section of Northeast Philadelphia.
City police spent thousands of man-hours searching for clues and running down false tips.
The boy was eventually buried in the city cemetery at Dunks Ferry and Mechanicsville roads in Northeast Philadelphia, later to be marked with a stone: "Heavenly Father Bless This Unknown Boy February 25, 1957."
And there he lies.
It is one of Philadelphia's most puzzling crimes if, in fact, it was a crime and not an accident from which the boy's parents, perhaps guilt-ridden and fearful, have sought to hide.
The case would be forgotten, except that one man, Remington Bristow, has kept it in the news with his personal devotion to the boy's memory and dogged hope that he might someday learn the truth.
Bristow, an investigator in the city medical examiner's office, had been assigned the case by chance. He became obsessed with it, working on it on his vacations and days off, traveling all over the country, offering $1,000 of his own money, in a vain search for the boy's identity.
And, every year he would go back to the grave and think and pray, then go away.
Bristow, 55, is retired now. But his sense of affinity for the boy in the box continues.
He has planned a memorial service at the gravesite at 1 P.M. tomorrow. A clergyman will offer prayer not only for this boy but for all unknown victims who lie in graves, marked or unmarked, whose ties with living family and acquaintances have been severed.
"This year is special to me because it has been 20 years," Bristow said in an interview yesterday. "I would like as many persons as possible to attend the memorial service."
Has he finally accepted that the boy's identity may never be known?
"Everybody has hopes," he said. "The parents could still come forth. This has become part of my life."

PHILADELPHIA DAILY NEWS

FOX CHASE BODY STILL BAFFLES PROBER

Thursday, February 18, 1982

BY GLORIA CAMPISI

" The minute I heard it, I started thinking, well, we've got another one", Remington Bristow recalled. When the retired medical examiner's investigator learned the body of a small, unidentified girl had been found last Friday in a trunk under the George Platt Bridge in Southwest Philadelphia, it made the upcoming 25th anniversary of the " Boy in the Box" all the more poignant.

On Feb. 25, just a few days from now, it will be 25 years since the boy, blond, blue-eyed and about 4 years old, was discovered in a cardboard box in a dense thicket in Fox Chase, where now there are brick homes. The body was found washed, hair and nails clipped, almost as if it had been prepared for burial.

BRISTOW STILL HAS NOT GIVEN UP his search for the identity of the long-dead " Boy in the Box."

"It keeps on year after year, and day after day," Bristow, who himself lost a child to crib death many years ago, said last night. "The medical examiner sends me all the leads. Everything they get. There are three filing cabinets full of investigative reports," said Bristow, who retired in 1977.

Bristow believes he came closest to identifying the dead child last year. " In 1981, I thought I almost had the answer, but I found the young fella alive and well," he said.

" I hope they don't make the same mistakes we did," Bristow said of the investigation into the death of the little girl, black and between 5 and 7, whose cause of death was not immediately determined.

" NUMBER ONE, THE BOX the boy was found in was never fingerprinted," Bristow said. " It was just an oversight because there were so many darn people at the scene." Bristow did not become deeply involved in the case until after the boy, naked but for a scrap of blanket when found, finally was buried, July 24, 1957, in a suit that belonged to the young son of one of the investigators.

Listed as Morgue Case No. 29109, he was laid to rest in Grave 191 at the city cemetery on Dunks Ferry Road. A headstone erected with money donated by detectives who had worked on the case reads:

" Heavenly Father, bless this unknown boy."

To this day even the manner of the child's death remains unknown. He died of head injuries, but whether they were inflicted by a beating or some accident could never be determined.

" EVENTUALLY HE WILL BE identified," and the mystery solved, Bristow is certain. " Someday the mother or father or sister or brother will come forward . . . give us the answer. " I don't think any unusual investigative technique is going to bring it out."

He tried them all, he recalled in a former interview, even working with a North Jersey psychic who once asked him, " Is there a Darby in Philadelphia?"

The large cardboard box in which the child's body was found had been traced to the J.C. Penney store in Upper Darby and had contained a white bassinet. The fruitless search reached as far away as California, and went through hundreds of tips.

Perhaps the most macabre was the tip about two carnival workers finally located in Virginia. They admitted they had permitted six of their 10 children to die of malnutrition and neglect and dumped their bodies in places like old mines in several states. The body of each child eventually was found, and the " Boy in the Box" remained unknown.

ONE MAN'S 25-YEAR QUEST TO IDENTIFY A CHILD

PHILADELPHIA INQUIRER

Monday, February 22, 1982

BY MICHAEL E. RUANE

Inquirer Staff Writer

Remington Bristow has held the small, plaster death mask in his hands a thousand times in the last 25 years, searching the mold of the little boy's face and wondering.

You must hold the child's face yourself, he tells visitors. " Feel it," he says, offering the mold, " just hold that little face . . . then you'll know."

Bristow, a retired investigator for the Philadelphia Medical Examiner's Office, wants others to understand why he has been obsessed for 25 years with the face of a child he never knew.

" I feel a closeness to the boy crying out, 'Who am I?' " he says.

Bristow's obsession began at 3:45 p.m. Monday, Feb. 25, 1957, when a passer-by found the boy's nude body - freshly scrubbed and groomed, wrapped in a tattered blanket and laid in a cardboard box stamped "fragile."

The box was in a clump of woods at Verree and Susquehanna Roads in Fox Chase. The boy was about 5. He was thin and probably sickly, with blond hair and blue eyes. His hair had been cut recently - in a crude, hurried way. Small clumps of his hair clung to his body, suggesting that someone had groomed him after death. He had a small, L-shaped scar under his chin, and he was slightly buck-toothed. His arms were carefully folded across his stomach.

Bristow, working out of the old city morgue, at 13th and Wood Streets, took on the task of identifying the boy. For more than two decades the child has been known only as " the boy in the box," although Bristow ran down leads, offered rewards and traveled across the country in an attempt to determine the boy's real name.

The search has been in vain. Thursday will mark its 25th anniversary. But even as Bristow's quest approached that milestone, a similar search began recently under a bridge in South Philadelphia.

About 1:50 p.m. Feb. 12 two state Department of Transportation workers decided to investigate a rusted steamer trunk they had noticed under the west end of the Platt Memorial Bridge. The men broke open the single lock and lifted the lid. A foul odor drifted out. The men removed nine carefully layered plastic trash bags, five folded bed sheets and two pieces of heavy clear plastic. Beneath the coverings lay the decomposed nude body of a girl about 6 years old.

Fourteen days short of the 25th anniversary of the discovery of the "boy in the box" Philadelphia now had a little girl in a box, and investigators began the task of trying to identify her.

She was a black child and was missing three of her top front baby teeth. She had a single filling in one molar. Deputy Philadelphia Medical Examiner Dr. Robert L. Catherman performed an autopsy and found three recent rib fractures and seven old rib fractures.

He classified her as " a suspect battered child" and speculated that whoever disposed of her might know the circumstances of her death. However, he could not pinpoint the cause of death.

Because of the advanced decomposition, the little girl's facial features were unrecognizable. She had been dead at least a month, perhaps several months, Catherman determined. Identification would be difficult.

News of the discovery brought back memories for Remington Bristow. Identification " will be next to impossible unless they get a lucky break," he said. The kind of break he never got. As officials sought to identify the unknown child last week, Bristow sat at a desk in the basement of his house in the city's Bustleton section and looked back on his crusade.

He produced the now-famous plaster death mask, removed the two paper bags that covered it and laid it on a faded green desk blotter. The mask, an ashen color, is scuffed and chipped now from 25 years of being carried around in Bristow's black briefcase. Some of the strands of the boy's hair, which were implanted in the plaster to simulate eyelashes and to make the mask look more realistic, are gone.

The years have also taken a toll on Bristow. He retired in 1977. Asked his age, his only reply is " over 60." He has had two serious strokes in the last year, he says, one of which left him with a broken shoulder. There is a numbness on the left side of his body, and he admits he has " a little trouble with the left hand."

Still, he says he has not lost hope that somehow, perhaps through publicity, he will learn the boy's name. " I always have this feeling about it in the back of my mind," he says. " I hope that sometime, some mother or father or brother will finally come forward and say, 'This is my baby.' "

Bristow believes the boy was loved. " He was placed in a box big enough to be a casket. He was bathed. His hair was cut. His arms were crossed over his stomach. There was love there. Somebody had to have loved him." An autopsy disclosed the boy had suffered head injuries, and some investigators began calling the case a homicide. Bristow disagrees. " If it were a homicide, they would have put him in a bag and thrown him by the side of the road," he says. " Someone had planned to bury him, but they were scared off."

Discovery of the boy's body caused a sensation. Scores of citizens telephoned authorities saying they thought they knew who the boy was or had seen him somewhere recently. A barber said he thought he had given the boy his haircut. A waitress thought she had served him dinner.

Photos of the boy went up in State Stores and were sent out in Philadelphia Gas Works bills. About 25,000 circulars were sent to police departments across the country.

Parents in Manayunk, Bethlehem, Lancaster, Dover, Del., and Tulsa, Okla., thought the boy was their son. A young Marine thought the boy was his missing brother. Another man, who told police he had dreamed he killed a boy, was released after questioning.

For a time police thought the boy in the box was a youngster who had been kidnapped in New York in 1955. Police also began searching for a roofer who had been seen with a little boy in Camden. The roofer eventually was found - with his son.

Several years later attention focused on an itinerant carnival couple who admitted they had disposed of five of their own malnourished children at different places across the country. However, the couple insisted they had never been to Philadelphia.

Meanwhile, experts pored over the boy's body. They were baffled by wrinkling that had been found on the boy's feet and left hand, as if he had been left in water for some time. And there was the strange fluorescence in his left eye. Some speculated he might have been retarded.

Anthropologist Wilton M. Krogman noted the boy was of Northwestern European ancestry and had been " in chronic ill health for about a year . . . ( perhaps ) due to neglect and malnutrition."

Last week, other experts were examining the body of the little girl in the steamer trunk. One of them, William F. Russell, a fingerprint specialist with the Police Department, this week plans to take what he hopes will be a major step toward identification.

Russell will remove her body from the decomposition refrigerator in the Medical Examiner's Office, where decomposing bodies are kept cold. He wants the body to warm a little and the skin to become flexible so he can take prints from the girl's foot. Most children are too young to have their fingerprints on file anywhere, but they are all " footprinted" at birth.

Because of the decomposed state of the girl's body, investigators have even fewer tools to help them identify her than they had with the boy in the box.

Russell plans to make a silicone mold of the child's foot, and then make a good footprint from that. Even if the print is a good one, however, he will need some kind of lead to know which hospital's birth records to check. He says he does not know if he will ever get it.

On Thursday, a group of people will gather in the bleak city cemetery on Dunks Ferry Road in the city's Northeast to remember the " boy in the box." Of the scores of graves there, his is the only one with a tombstone. It reads " Heavenly Father Bless This Unknown Boy." The date inscribed is Feb. 25, 1957.

If Russell and other investigators fail in their efforts to identify the girl in the steamer trunk, officials say she too could be buried as an unknown child. Remington Bristow hopes that will not be the case.

A CLUE TO HIS IDENTITY

PHILADELPHIA DAILY NEWS

Friday, Feb. 26, 1982

By MICHAEL SOKOLOVE

"Father of all consolation, from whom nothing is hidden..."

With those words from the Epistles of St. Paul, the Rev. Joseph D. Bowen opened a memorial service for the "Boy in the Box," the dead child found a quarter-century ago but never identified.

As Bowen spoke yesterday on the 25th anniversary of the discovery of the boy's body, a 4-man team from the Phil. Police Dept's homicide unit worked to learn the identity of another unknown child - a 5 or 6-yr old black girl found in a truck Feb. 12 under the George Platt Bridge in South Philadelphia.

And that same team also was working a new lead in the still active case of the Boy in the Box. Homicide Capt. Jerrold Kane said police had gotten a call Tuesday night from someone with new information on the case. The info turned out to be correct, police said this afternoon, but it concerned a different child - not the Boy in the Box, but someone else who was sent to live in a foster home in Bucks County some 25 yrs ago and is still alive.

Kane said police periodically get calls about the Boy in the Box, although the case last made big headlines in 1957. The blond, blue-eyed boy, thought to be 4 yrs old, was found Feb. 25, 1957 in a cardboard box in a dense thicket in Fox Chase.

Surprisingly, police have not received a single call about the girl found under the bridge in the 3 weeks since she was discovered. As a result, Kane said, police still have very little to go on.

"I think it's a sign of the times," the captain said. "We don't get as many calls about anything now,..In 1957, we were flooded with them." Police will soon have a footprint of the dead girl made by William Russell, the dept's fingerprint expert. They hope to learn her identity by matching the print w/birth records at a hospital. First they must identify neighborhoods where the girl may have been from since every hospital cannot be checked.

Police had hoped to do that either through a tip, through a computer bulletin sent to other depts nationwide, or by tracking the manufacturers of the trunk and the sheets the girl was wrapped in and determining where the items may have been sold. None of those avenues has proven fruitful yet, Kane said.

The 15-minute graveside service for the Boy in the Box was conducted at the city cemetery for indigents, a muddy, rutted field off Dunks Ferry Rd. near the Bensalem Township- Bucks County line that can barely be distinguished from an adjacent soccer field. The boy's grave marker, inscribed "Heavenly Father Bless This Unknown Boy", is the only headstone among hundreds of graves.

About 20 people attended the service, including retired Phil. police det. Remington Bristow, who worked on the original investigation of the boy's death and continues to track down leads on his own.

"Most of the people here are like I am, that's why they came," said Bristow. "They're compassionate and they love kids."

All content copyright 1982

PHILADELPHIA DAILY NEWS

Sat. Feb. 27, 1982

Phil. police have checked out a new lead in the "Boy in the Box" case, but it will not lead them to the identity of the child found dead 25 yrs ago in Fox Chase.

The info provided in a call Tues. night turned out to be correct, police said, but it led them not to the Boy in the Box, but to a child sent to a foster home in Bucks County 25 yrs ago who is still alive.

About 20 people commemorated the 25-yr anniversary of the finding of the unidentified Boy in the Box at a memorial service at the city cemetery off Dunks Ferry Rd in the Northeast on Thursday.

The anniversary and the discovery of a 5 or 6-yr old black child in a trunk under the George Platt Bridge earlier this month has sparked renewed interest in the case.

Police still have not identified the girl under the bridge and said yesterday they have no leads in that case.

All content copyright 1982